Hopewell Township Police Department Earns PLEAC Accreditation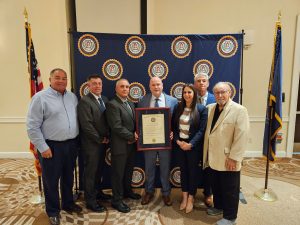 The Hopewell Township Police Department has worked diligently over the past 10 months to earn our PLEAC (Pennsylvania Law Enforcement Accreditation Commission) certification. On Thursday, October 26 in Harrisburg, we were presented with our certification. Chief Sedlacek, Sergeant Yerdon, and Officer Lopez were present to accept the honor and were joined by Township Manager Yurcina, and Commissioners Bufalini and DiPierto.
Hopewell Township Police Department is only the second department in Beaver County to earn PLEAC accreditation and we earned it faster than any other department in the state. Thanks to all the hard work by Sergeant Yerdon and Officer Lopez, who took the lead, and to all the other officers for their cooperation and input.
The PLEAC officials will be in Hopewell to re-present our certificate at the January 22 Board of Commissioners Meeting.
For more information on PLEAC, https://pcpa.memberclicks.net/accreditation-home